When you look at this photo, what do you see?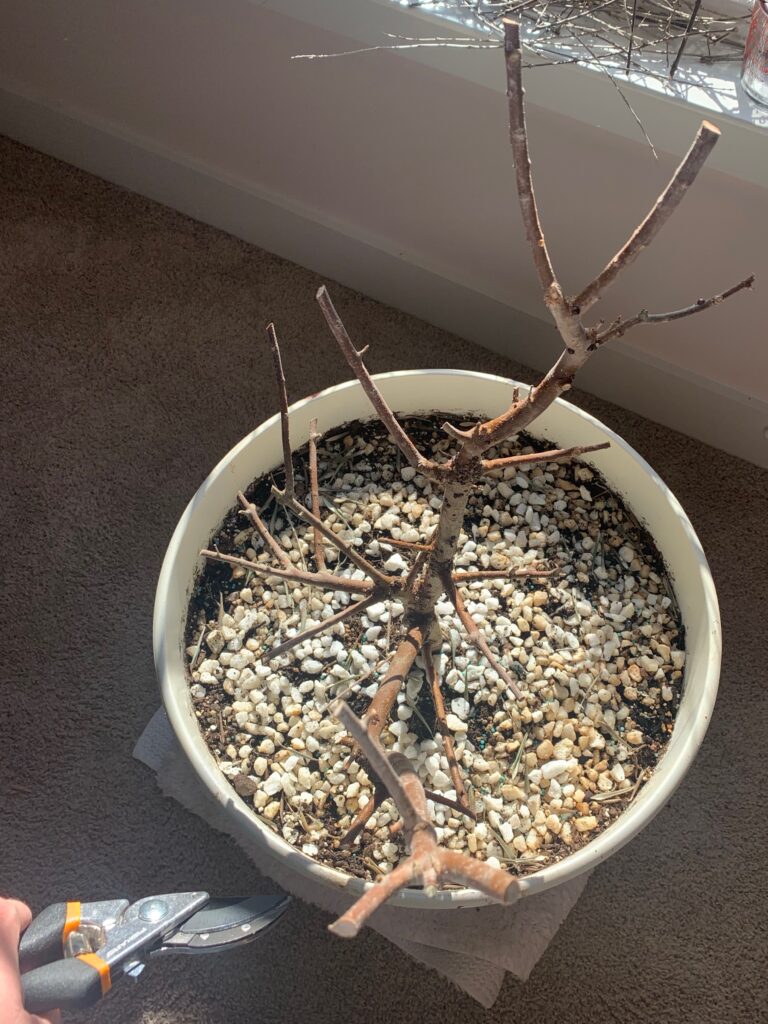 I see what was once a vibrant olive tree now looks completely lifeless, barren.
I look at this and try not to get discouraged.

What looks like backwards progress reminds me to not despise small beginnings.
We must remember no matter how hopeless a situation may look, that spring is coming; this is the place from where new life can burst forth!
It may look different than we expected, but that is a beautiful part of the journey – learning to embrace the process and find joy in the midst. 
This is one reason why Asulon Collective was birthed – not just for the vibrant, flourishing lives (although very welcome) but really to welcome those, wherever one may find themselves on their life journey, to experience a safe place, rest and to provide hope ushering in new life along the way!

Oftentimes before new growth occurs, pruning happens. I recently did this with my olive tree. Turned out that all of those branches were actually dead. Now it looks even more discouraging, but I am choosing to believe what looks like a setback will end up bringing life. I will continue to water, wait and watch. And if after some time there's not any progress, I will evaluate the root system because if the root system isn't healthy it may need to be replaced altogether to start afresh. Who knew this olive tree would provide such valuable lessons along the entrepreneur journey?
In farming or gardening, when you plant something, it takes hard work, careful attention to cultivate the seed and then that seed spends a considerable amount of time underground. After some time though, it then begins to break through the surface. You will now begin to see new growth.
This has been the process and story of Asulon Collective; what began as a metaphorical small seed of a dream over 7 years ago, bloomed then died. Then with much healing care, new life burst forth with renewed vision; that vision was given a name and that name became visually represented by a coffee cup and an olive tree.
I believe with a mix of tender care and through continual cultivation these seeds can produce a thriving community. One where refuge is experienced daily, then we engage collectively and extend freely; connecting with one another through coffee conversation.
Embracing the process is certainly not easy. It involves letting go of control, learning flexibility, exercising a lot of patience, and being resilient. However, it can bring such joy during the adventure and it can yield great results.
No matter where you are in the process of this journey called life, don't give up and keep on hoping!
---
Reflection:
Consider for a moment, what's at the root of your life? What's your why? Try naming some of your core motivators in life and main desires.
Where do you want to flourish and what kind of a harvest do you want to reap? Try extending generosity to others in those exact areas.
Are your roots healthy, stable and stimulating further growth? If not, contemplate what you may need to tend to in your life; plan to make the necessary adjustments and watch your life not just expand, but truly flourish. 

How can you add a splash of joy in the midst of wherever you are in your process right now? Don't give up, remember to laugh and keep going!
What are you hoping for? Write it down and think about someone you can invite in the journey to share it with.

Edited by: Alida Cassinari, @hacassinari