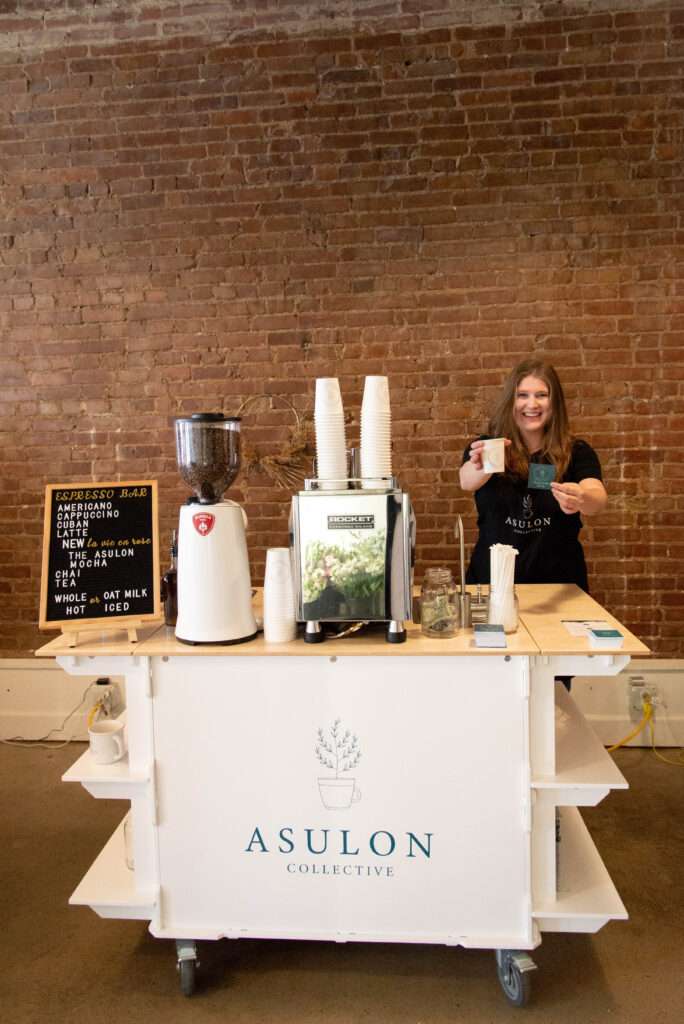 Cultivating Connection through Craft Coffee
Welcome! Asulon (us – oo – lon) is a Greek word meaning refuge. 
Asulon Collective is a woman-owned, small business that caters craft coffee and conversation to foster deeper connection. Cultivating connection helps relationships thrive and builds stronger communities!
The coffee cart services the greater Nashville, Tennessee area with options of a mobile espresso, drip coffee or cold brew bar! Custom packages are also available. Craft coffee is served with excellence and unique conversation cards are offered to foster deeper connection. 
You can even choose an add-on service to have custom conversation cards to create an even more unforgettable, engaging event experience for you and your guests. Life is too short to be disconnected. What better way to celebrate than by enjoying craft coffee, engaging in conversation and connecting with others? Let"s create an unforgettable experience together! 
The coffee dream was planted in 2013 and has been organically developing ever since. Emily Austin, the owner, was a first-time barista in 2015 at a nonprofit coffee shop. Years later after moving to Nashville, the dream reawakened in 2019. Vision poured out early in 2020 when she decided to actively pursue creating a place of refuge.
What began as a blog to share vision, then turned into a growing side business. In 2023, she took another step to transition out of the corporate world to pursue being a full-time entrepreneur. Emily has 12+ years of working in the event/hospitality industry as well as having various program management roles. 
The dream is that one day this coffee cart will turn into a physical coffee shop, with coffee being the vehicle for creating a sense of refuge and belonging; connecting people together and building strong community.
For now, your friendly neighborhood coffee cart is available for catering pretty much any kind of event you can think of; bringing craft coffee directly to you! You can check out the craft coffee packages here and book here.