Asulon Collective featuring Rolf Weichardt with Khanyisa Mountain Lodge
This week I look forward to sharing a very special interview coming all the way from South Africa! Rolf Weichardt lives in the Cape Province with his lovely wife, Lizzie of 36 years. His perspective is valuable in so many contexts as he has been actively involved in his local community in a variety of ways. Throughout his experiences he has continued to walk in joy, love others greatly, and extend compassion. So honored to have you, Rolf, thank you again for sharing with all of us.
---


E: What's the daily life of Rolf look like these days?
R: I do have a basic routine, but my days can be so different from each other on a number of levels. We live on a farm in Robertson, so there are many diverse activities and tasks that may grab my attention. Rising early is pretty normal (although I do enjoy a sleep-in over weekends or when away).
Lizzie and I run a guesthouse (Khanyisa Mountain Lodge: www.khanyisamountainlodge.com), plus we are very active in community outreach projects (Khanyisa International Ministries: www.khanyisa.com) Our day normally starts with our staff meeting in our home for a short devotional thought, prayer and directives for the day. Before covid, we were hosting an average of 10-12 (mostly) German volunteers, who make up our ministry outreach team.

Because of covid, all our international volunteers have had to return home and most of our normal, day to day work in rural schools has shut down. When our volunteers are here, their day also normally starts with a devotional thought, a time of prayer before heading out to a school. From there on I could be doing many different things… one-on-one coaching with a ministry staff person, running errands for the guest house, working in the garden, or facilitating a workshop.
My day mostly feels "busy" and full, but gratefully it involves things I am passionate about:
Cross cultural skills development (diversity management)
Leadership development
Coaching
Training and facilitating the development of young creative artists
Mowing/cutting the lawn! Yes, that is one of my priorities as I really do enjoy doing some manual outdoors work (both Lizzie and I love the outdoors, so doing outside work is really fun for us)
E: Can you share with us your favorite way to enjoy coffee in Cape Town?
R: I do love coffee and possibly enjoy too much of it! Both Lizzie and I come from Cape Town, but we have now lived in Robertson, a small rural town in the Western Cape since 2012. So, fortunately we do have a very nice coffee shop called "Strictly Coffee" with a really nice, relaxed atmosphere (and something to eat should you be hungry), but yes, that would be a favorite when meeting with someone in town. I am also perfectly happy just to enjoy a cuppa in our living room or on the verandah, but yes, I rarely meet with someone without enjoying a cup of good coffee in my hand.

E: What does refuge mean to you?
R: For me refuge would be a place of safety (both physically and emotionally) and comfort (emotional, mental and spiritual). A place of refuge or time of refuge for me would also suggest healing and restoration. On our life journey we have met so many people (often those in ministry) who are just tired, fatigued, stressed, and often they have just lost their joy. For us it is so normal and natural to come alongside people who need a place of refuge, be it physical, mental, emotional or spiritual.
E: Can you share your perspective on what it means to be a place of refuge for another person?
R: As a person who is quite passionate about community living, I naturally would invite a struggling or hurting person "into my world."  In doing so, my hope would be that this person would "feel" how much his/her struggle means to us as well…and that he/she would feel safe and cared for. I think a big principle for me has always been to "try" and make other people's conditions my own… to try my best to genuinely relate/empathize with the person who is in need of refuge.
E: How have you experienced refuge throughout your lifetime or seen it displayed? How did that experience shape you into who you are now?
R: Wow, this is a big question! I have to briefly share my background for this to make sense: I was raised in a very conservative home during the apartheid (racial segregation) years in South Africa. During my final year of high school I had a very definite encounter with God, committing to be a follower of Jesus Christ as Lord of my life. I instantly had an intense desire to be a bridge builder/reconciler/healer between Black and White people. This happened at a time when the racial divisions and tensions in our country were at a peak. I was 16…. no experience in cross cultural work, naïve, fearful… but passionate. I could not be passive about the injustices of racism. Getting to your question… when I think back, there were many Black people God put in my life who chose to accept, love and nurture me, even though I was supposed to be their enemy. Today I believe those people, with their acts of unconditional love and acceptance became my safe space, my refuge, in a time that I struggled with my identity and "my place in Africa."
E: Who is someone that made a lasting impact on you? What words or actions have stuck with you?

R: Nancy Demus. Nancy has gone to be with the Lord, but the memory of her lives on in the hearts and minds of multitudes of people, literally people from all walks of life, different nationalities, different religions, different culture and ethnic groups, rich and poor.
When we moved to the USA in 1995, their home became our safe place. I do not have the space here to go into all the detail, but I will drop some words or phrases that describe our "Mike and Nancy Demus experience":
They opened their home to (many) strangers
Consistently went the extra mile to care for us as foreigners in the US
Great hospitality … and great food!
Always had time to listen, and give advice
Tireless in their efforts to really care for us
Never about themselves, always about others… totally selfless
Consistent
E: How are you currently living out "Asulon" or how would you like to in the future?
R: I always hope that my care for a person or people is not just a 'flash in the pan" moment. I deeply desire to be consistent in my love and care for those the Lord entrusts to me. Our home (although it is very small right now) has always been an "open home." We love God and we love people (and animals)! We always hope that somehow our interactions with people will make them feel valued, loved and respected.
E: What inspires you and continues to propel you to be a refuge for others?
R: "Definitely Isaiah 61: The Spirit of the Lord God is upon me; because the Lord has anointed me to preach Good News to the poor; He has sent me to bind up the brokenhearted, to proclaim liberty to the captives, and the opening of the prison to them that are bound; For me such a big part of the Good News is 'binding up the broken hearted!'"

E: What would your wisdom be to empower others in cultivating relationships with people cross-culturally or with diverse backgrounds that establish a safe place of refuge with one another?
R: When teaching on the topic of diversity I always say: "we all see the world not as it is, but as we are." Golden rule: never assume that you really understand another person's journey. You always are seeing it through the lens of your own culture. Rather ask questions, try to draw alongside, but do not give "answers" or suggest solutions unless the person really trusts and respects you enough to want your perspective. Trust (always) is earned in a cross cultural relationship. It is never just a given. I think one key to earning trust is humility and kindness.
E: What are you currently dreaming about or what are you hoping for?
R: I still am very passionate about the creative arts being a catalyst for change, especially in cross cultural work (in short, I love seeing Black and White people doing music and the arts together: it always has such potential to create a very powerful, positive picture of UNITY IN DIVERSITY! Both Lizzie will always desire and hope that our home is a safe place… a place of refuge for anyone who may need it.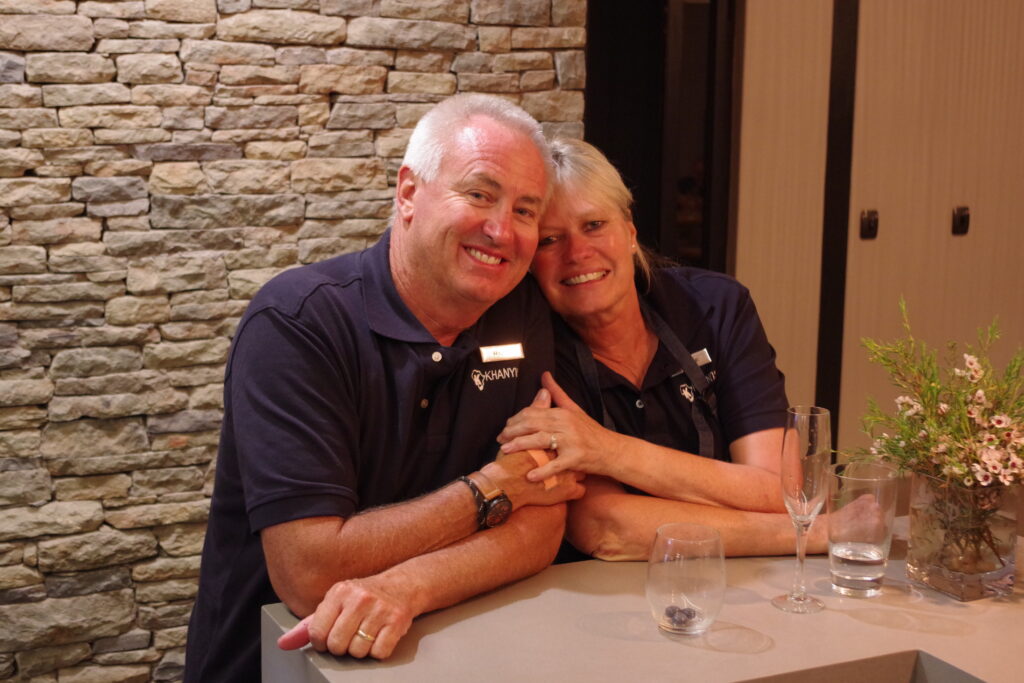 E: What words would you like to share with those reading on how to be a place of refuge for others?
R: It is a bit of a repeat, but I really believe "learning how to make others' conditions your own" is so important when you desire to draw alongside someone in need. Some keywords for me would be UNCONDITIONAL LOVE, ACCEPTANCE, ACTS OF KINDNESS, and HUMILITY…. and PERSEVERANCE!
---

Edited by: Alida Cassinari, @hacassinari
Permission to use photos from Rolf Weichardt with Khanyisa Mountain Lodge
Instagram: @khanyisa_mountain_lodge